HIV/AIDS Awareness and Information Products
Condoms & Condom use Demonstrators (C5,6,7,8,9,10)
Condoms & various Condom Training Models for both male & female condoms.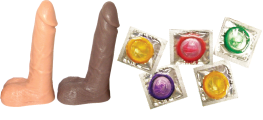 HIV/AIDS Informative Flipchart (W2)
A2 12 Poster Flipchart with folding stand. Topics: Immune System, How you can & cannot get HIV, Correct Condom Use, Unsafe Sex, TB & STI Connection, Caring for people with HIV, Know your Status, Anti-retrovirals.